Forums
Home
Photo Album
Interests
Favorites
Dricas Gang
Photo Album2
4x4 info
Flashpage
EVO racers
Your at My Interests Page
Some of the things that are of interests of mine and the families are sports and video games. I'm a registered driver simulation video game nut, and that's about as close as I'll ever get to being a race car driver. But that's ok with me because of all the great video racing games and the driving simulator racing setups that are out and coming out! If I could just win the lottery now.....

| | |
| --- | --- |
| | Like I said I'm a die hard video game racer and love to try to get as close to the real thing as possible. Probably because I can't afford the real thing and I'm not a good enough driver. But this little thing here will get me closer to reality than I've yet to experience and that's a good thing as Martha would say. |
| | |
| | |
| --- | --- |
| | This picture is a taste of a driving simulator for all systems that was developed by a friend of mine. He will be launching 4 different versions of the simulator in the coming months. The couch version will be available Aug. 30th. It is by far the premiere driving simulator available to the public. His site should be up soon that has more information and pictures and details on how to get your hands on this if your interested, I know I'm getting one for sure!! By clicking his logo it will take you to his site. The Virtual Racer Site is up, so stop on by and take a look around and get more information on one of the best things for video game racing nuts for some time to come I think. |
| | |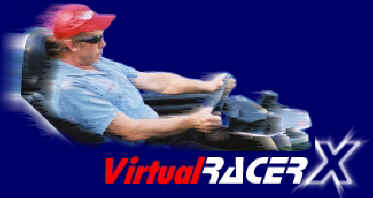 Click this pic for a chance to win one!
| | |
| --- | --- |
| | Recently I have found another video game that has captured my interest, that being Delta Force 2. The game has been out for awhile but I have just recently started playing it online. It is an addictive game online with squads and clans ruling a lot of the servers. But it is a blast whether your in a clan or just a lone sniper hanging on the edges of a hot zone picking off people from 500 yards out! |
| | |
| | |
| | A Few Screenshots from the game |
| | |
| | Here's a site that is by Vrx's brother. A very professional site that has a lot of different types of boats. Cool stuff that may be useful if you know anyone in this type of business that can use some very well made crafts. |